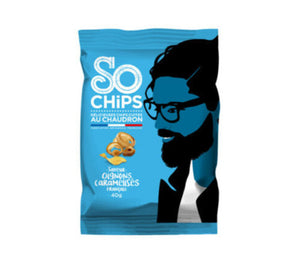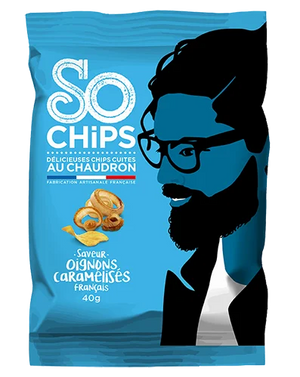 Description
Slowly cooked in a cauldron, the generous slice of potato is golden, drained, finely salted and delicately flavored at the end of cooking.
French cuisine is all about terroir, authenticity… dishes simmered in a casserole dish, caramelized onions, we love it! And even more when they are prepared from good products, like our SO CHiPS caramelized onions: the top of the potato, a natural onion flavor and the addition of Roscoff AOP onion, So yum!
Fall for the SO CHiPS Caramelized onions mini version:
• local potatoes
• cooked in a cauldron according to our KNOW-HOW for an extra crunch
• made in France
• to dip or enjoy on its own
• an authentic taste!

Gluten free
Additives free
NO artificial flavor
NO flavor enhancer
Artisanal chips, chips made in France.
Composition
Valeurs Nutritionnelles
Allergènes
Reviews