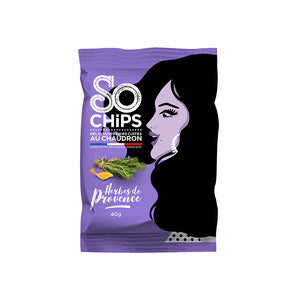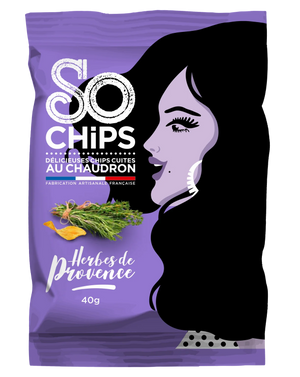 Description
Slowly cooked in a cauldron, the generous slice of potato is golden, drained, finely salted and delicately flavored at the end of cooking.
Tear the package! You are transported directly to the South: the fragrances of thyme, rosemary, basil mingle... Bite into it to continue your journey, and accompany it with an excellent melon for sweet tooths, or a cheese platter and mesclun for the salty beaks!
Fall for the SO CHiPS Herbes de Provence mini version:
• local potatoes
• cooked in a cauldron according to our KNOW-HOW for an extra crunch
• made in France
• to dip or enjoy on its own
• an authentic taste!

Gluten free
Additives free
NO artificial flavor
NO flavor enhancer
Artisanal chips, chips made in France.
Composition
Valeurs Nutritionnelles
Allergènes
Reviews