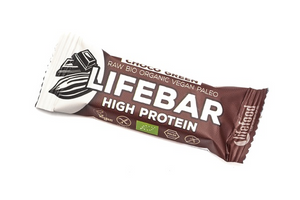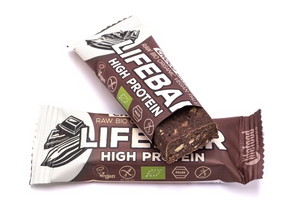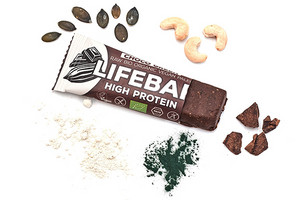 Description
Raw chocolate bar, pumpkin protein and spirulina, containing 20% ​​of your protein needs, in an extremely digestible and natural form. The most natural and tasty version of the protein bar!

Raw vegan protein bar
1 bar provides 20% of your protein needs
1 bar gives you more than 80% of the recommended antioxidant activity for one day (see below)
The top protein energy bar with delicious raw chocolate
BIO & RAW PROTEIN LIFEBAR choco green protein are enriched with a special selection of all-natural superfoods and provide that little extra boost for maximum performance.
Simply natural energy bar, to reach the top of performance
Only made from dried fruits, nuts and seeds and enriched with superfoods
Source of energy, rich in fiber and low in salt
No added sugar - Naturally sweetened with fruit
All Natural, Gluten Free, Soy Free, Dairy Free, Starch Free, No Additives, GMO Free

Raw quality – organic – vegan
Excellent antioxidant activity confirmed!
1 LIFEBAR PROTEIN choco green protein contains 2552 μmol TE*, almost the recommended daily amount of antioxidants.
Antioxidants (AOX) protect cells from oxidative stress and have many benefits for the body. The recommended daily amount** of AOX should reach at least 3000–5000 μmol TE*. A classic diet contains on average no more than 1200 μmol.
* TE: standard unit of antioxidant activity
** United States Department of Agriculture
Composition
Valeurs Nutritionnelles
Allergènes
Reviews