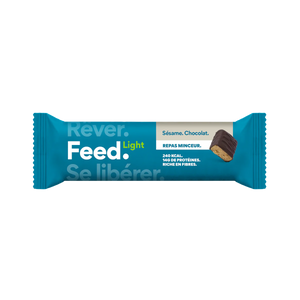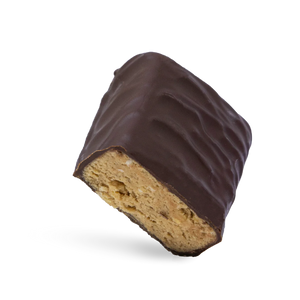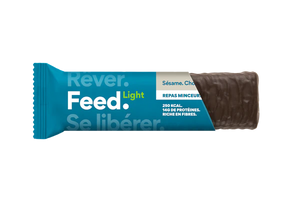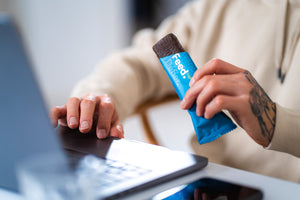 Description
An ultra gourmet and low calorie bar of 70g to replace a meal in the context of weight loss . Rich in fibre, protein and super-food, it ensures rapid and lasting satiety. With Feed. Light, treat yourself to a healthy and light diet to achieve your weight loss goals and get back in shape.
Light meal bars. are meals low in calories and sugars, healthy and convenient. They allow you to take care of your diet and keep control of your weight wherever you are (at home, at the office, on a trip...). These bars provide you with all the essential nutrients for a light and balanced meal.

For optimal effect, replace one to two meals a day with a Feed meal. Light.
ONLY 250 KCAL
A gourmet meal with less than 250 kcal that brings you just the essentials and allows you to quickly reach your weight loss goals.

RICH IN FIBER AND PROTEIN
Plant fibers and proteins provide long-lasting satiety and are not stored as fat. No cravings or weight gain.

GLUTEN FREE
High quality ingredients for a guaranteed 100% gluten-free and GMO-free bar.

KONJAC APPETITE SUPPRESSANT
Extracted from a root, konjac is a super food that has the power to retain water in the stomach and promotes very fast satiety.

LESS SUGARS THAN IN FRUIT
With only 8 g of sugar per meal, it is twice less than in a fruit. Our meal bars have a low glycemic index.

25 VITAMINS AND MINERALS
Over 180 scientifically proven benefits for staying healthy.
Composition
Valeurs Nutritionnelles
Allergènes
Reviews