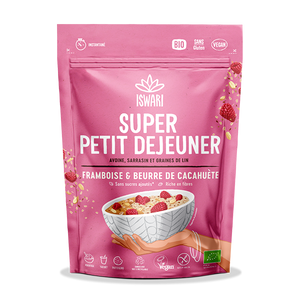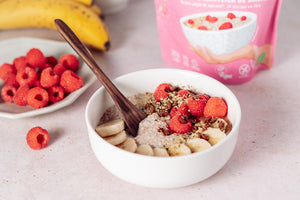 Description
Super Breakfast Raspberry and Peanut Butter is the ideal product to prepare your oatmeal instantly and quickly (without cooking!). In addition to the gluten-free rolled oats, this mix is ​​also enriched with ground buckwheat and "super" seeds which, combined with the crunchy peanut puree, contribute to a creamier, more nutritious and satisfying porridge!
Gluten free
Magnesium contributes to normal energy-producing metabolism, to the functioning of the nervous system...

Manganese contributes to the normal metabolism of energy production, to the formation of connective tissues,...
Protein contributes to the growth and maintenance of muscle mass

No added sugars - contains naturally occurring sugars
Composition
Valeurs Nutritionnelles
Allergènes
Reviews