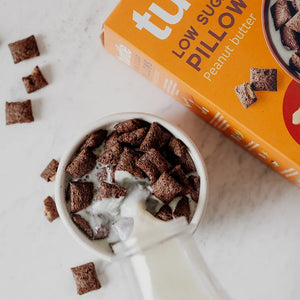 Description
Savor the crunch of real cereal filled with peanut butter, delivering a delicious blend of cocoa and peanut flavors. Our Turtle Low Sugar Pillows Peanut Butter contain very little sugar, which is perfect for starting the day on a healthier note.
These Turtle Low Sugar Pillows Peanut Butter aren't too sweet because we used very little sugar and no artificial sweeteners.
Consuming less sugar in the morning can help reduce your overall sugar intake because your body won't crave its next dose of sugar.
Eating less sugary foods allows you to take full advantage of the richness of natural ingredients, which is often masked or lost in products that are too sweet.
If you want to add a sweet touch, feel free to use fruits, which are not only delicious but also beneficial to your health.
Composition
Valeurs Nutritionnelles
Allergènes
Reviews