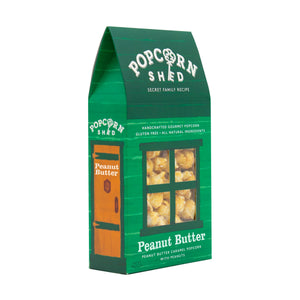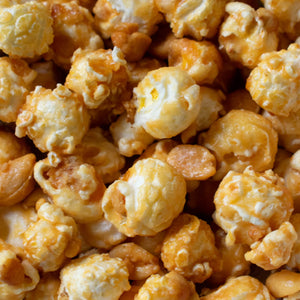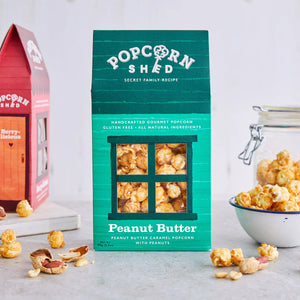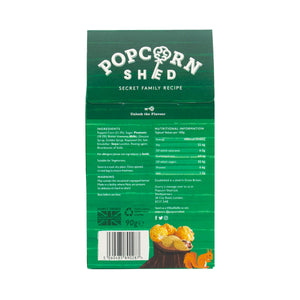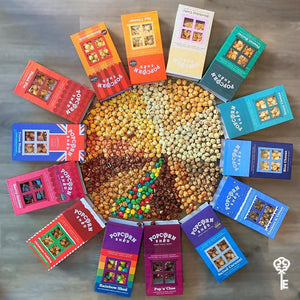 Peanut Butter Popcorn Shed - 90g
Description
Caramel & Peanut Butter Popcorn.
Opt for the "Butterly Nuts" popcorn with peanut butter! This flavor masters the balance of salty nut flavors. Rich, creamy peanut butter caramel with hints of nuts is topped with real peanut halves for an irresistible crunch. Butterly Nuts is a delicious treat for the taste buds. Warning: munching squirrels may appear once opened!

Each monster mushroom kernel is aerated to create fluffy popcorn which is then lightly coated in delicious peanut butter caramel, then we add peanuts!
FANTASTIC FLAVOR – Delicious crispy popcorn with roasted peanuts and golden caramel.

PREMIUM QUALITY - Handmade in the UK with all natural ingredients.

PERFECT FOR THE WHOLE FAMILY - Whether you're a gourmet popcorn lover looking for the best popcorn or looking for a healthier snack with all the fun and flavor.

PEANUT BUTTER CRUNCH - Rich, creamy peanut butter caramel with an irresistible crunch.
Composition
Valeurs Nutritionnelles
Allergènes
Reviews