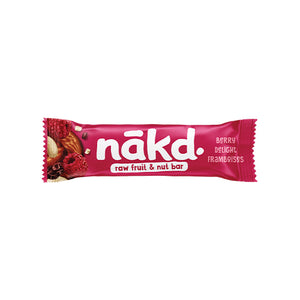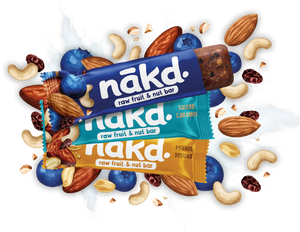 Description
The raw bar nakd. raspberry is unique. This raw bar made with delicious raspberries can be eaten on its own, combined with dark chocolate in a dessert or with oatmeal for a fruity breakfast.

Made with natural and minimally processed ingredients, and with no added sugars, your raw nãkd bar . raspberry contains dates, cashews, raisins and of course, raspberries. Nothing more. Fruits and nuts squeezed together, that's all. Simple and delicious.
Raw nakd bars. are a great alternative to candy bars. Raw nakd bars. can be enjoyed in combination with cereal and milk, or simply as a snack.

* 100% natural
* No added sugar
* Vegan
* Raw (without cooking)
* Gluten free
* Without milk
* Without preservatives
Composition
Valeurs Nutritionnelles
Allergènes
Reviews