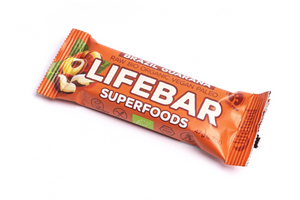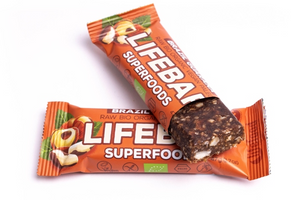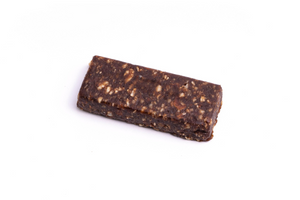 Description
E xquisite energy bar with Brazil nuts, with a touch of coconut and vanilla. Each bar contains 4% guarana powder, providing 80 mg of slowly absorbed and very well tolerated caffeine. A real alternative to chemical energy drinks, to energize your days!
Lifefood 100% natural powdered guarana is obtained from sun-dried seeds
1 LIFEBAR Superfoods Brazil guarana contains 80 mg of caffeine, equivalent to 2 cups of strong coffee
Not suitable for children or breastfeeding women
Balanced intake of different fatty acids thanks to the combination of Brazil nuts, almonds and coconuts.
LIFEBAR are raw energy bars, 100% vegan, organic and gluten-free. Only made from dried fruit, no added sugar. A healthy and balanced source of energy, easy to carry, to meet small hunger pangs and loss of tone.
LIFEBAR Superfoods are enriched with a special selection of all-natural superfoods and provide that little extra boost for maximum performance.
Simply natural energy bar, to reach the top of performance
Only made from dried fruits, nuts and seeds and enriched with superfoods
Source of energy, rich in fiber and low in salt
No added sugar - Naturally sweetened with fruit
All Natural, Gluten Free, Soy Free, Dairy Free, Starch Free, No Additives, GMO Free

Raw quality – organic – vegan
Composition
Valeurs Nutritionnelles
Allergènes
Reviews