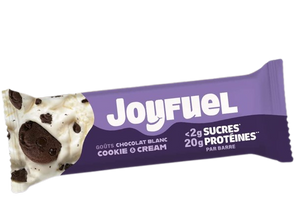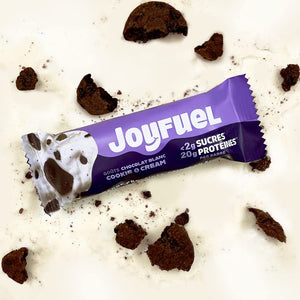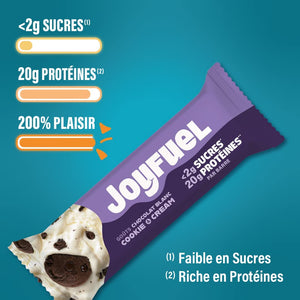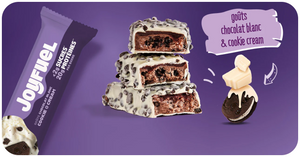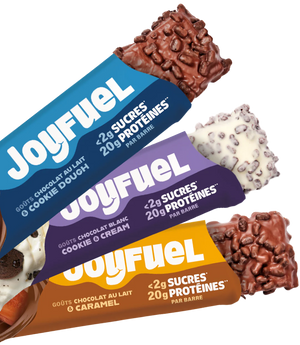 Description
JOYFUEL YOUR NEW DAILY FUEL! The first gourmet, nutritious AND low-sugar protein bars with ideal nutritional values ​​for anyone looking to reduce sugar in their diet or for athletes who want to support their effort and improve recovery.
LOW IN SUGAR: With less than 2g of sugar per bar, Joyfuel bars are a real alternative to very sweet classic chocolate bars. A snack so greedy and not very sweet, it makes you dream!
RICH IN PROTEIN: 20g of protein is what there is in a Joyfuel bar and it is as much as in 3 eggs (see Ciqual table). Whether you want to supplement your protein intake for nutritional reasons, sports goals or to get a little hungry without consuming too much sugar, Joyfuel bars are made for you!
200% PLEASURE: Find all the gourmet pleasure of a classic chocolate bar, with more protein, less sugar! With its delicious white chocolate coating, its ultra-regressive chocolate cookie flavor fondant and its crispy puffed billets, to taste it is to adopt it.
A NOURISHING, LOW-SUGAR, PRACTICAL AND GOURMET SNACK: Need to satisfy a little hunger? Want to treat yourself? At tea time, at breakfast, at the office, on a hike or even to support a sporting effort, Joyfuel bars will become your smart everyday snack!
Composition
Valeurs Nutritionnelles
Allergènes
Reviews